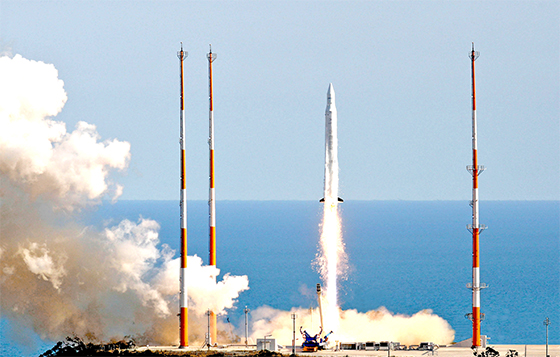 As the space launch vehicle is a state-of-the-art technology possessed by only a small number of advanced countries, it is strictly protected and controlled by each country. Technology transfer is specifically controlled because of the possibility of military application. Unless a country possesses its own independent launch vehicle technology, it will always be dependent on other countries.
Only a limited number countries worldwide own launch vehicle technology. The traditional space age powers such as the USA, Russia and Europe satisfy their internal demand for space launches using their own launch vehicles, and use them commercially by launching satellites for other countries.
Among Asian countries, only China, Japan and India have their own launch vehicles at present. These countries conduct their space projects with their own launch vehicles and are trying to enter the space launch service market.
Korea entered the field of space development in earnest in 1995 and laid the technological grounds for the development of a space launch vehicle by developing scientific rockets such as the KSR-I, II and III. Based on this experience, Korea's first space launch vehicle, the 'Naroho' (KSLV-I), was developed and launched into orbit in 2013, immediately placing Korea among the top ten space powers.
[Ten countries that have developed a space launch vehicle and launched rockets]
세계 우주발사체 개발, 발사 10대 국가
Year
1950s
1960s
1970s
1980s
1990s
2000s
Total
Country
Russia
USA
France
Japan
China
UK
India
Israel
-
Iran
Korea
10 countries
Korea is developing its own independent Korea Space Launch Vehicle (KSLV-II) based on the technology and experience accumulated during the development of Naroho. The Korea Space Launch Vehicle will be used to launch intermediate-size satellites in low orbit and to independently conduct space exploration including lunar exploration.
The future plan includes the expansion and enhancement of the Korea Space Launch Vehicle in order to launch geostationary orbit and large satellites and to enter the overseas satellite launch service market.
With the successful development of the Korea Space Launch Vehicle, Korea will acquire independent space development capability and be able to enter space whenever necessary, boost its status in the international community, and greatly raise national pride.