Independent design and successful ground testing of a Mach 6.7 level supersonic air intake sonic burner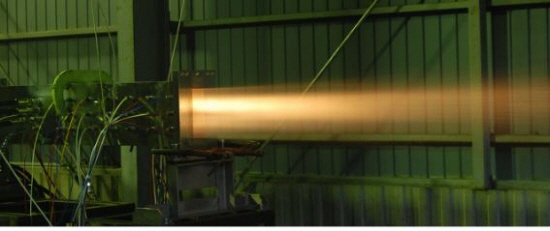 The Korea Aerospace Research Institute (President Paik Hong-yul, KARI) has announced that it has successfully performed the testing of a supersonic air intake and sonic burner, key components of the next generation Supersonic Scramjet engine. The testing took place in September and October, 2008.
The Scramjet engine is a next generation high-speed propulsion system capable of reaching speeds of Mach 6-10, allowing the flight time from Seoul to New York to be reduced to less than 2 hours.
The tested Scramjet engine components for the Mach 6.7 level engine were designed and developed by KARI. The testing was successfully conducted using the P-wind tunnel and RAMSYS supersonic propulsion test equipment of JAXA (Japan Aerospace eXploration Agency).
In the 40 rounds of testing, the sonic burner developed by KARI showed a better performance than the existing supersonic burner widely used today. Under the same conditions, it performed 17% better in terms of cylinder pressure, which increased the possibility of Korea developing a Scramjet engine.
Dr. Yang Su-seok of KARI stated that the success of the ground testing has brought Korea's supersonic engine technology to a higher level, which would help Korea become one of the key players in the future-oriented supersonic engine technology area currently monopolized by only a few countries.
Meanwhile, the United States, the leader in the field of Scramjet engine technology, has completed ground tests on the X-51A, a Mach 6.5 level Scramjet engine, with plans to conduct flight testing by the end of 2009. The US Air Force has announced that it will be possible to deploy a missile mounted with a Scramjet engine by 2018.